By Dr. Joseph B. Majdalani (JBM)
ISBN: 978-614-449-038-9
Buy | Kindle Edition | Table of Contents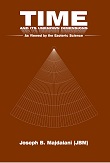 After the notable success of the fortieth esoteric publication in Arabic "TIME AND ITS UNKNOWN DIMENSIONS", written by Dr. Joseph B. Majdalani (JBM), the book is translated into English, in 96 medium sized pages and is published by the Society of Friends of the White Knowledge, based in Beirut-Lebanon.
With this seventh publication in English, added to more than one hundred esoteric publications in eight languages, the remarkable abundance of the esoteric publications by Dr. Joseph B. Majdalani (JBM), has become certain to the readers. In an unprecedented novelty, they delve in all that is unknown, connecting the outer with the inner to enrich Man's life and to reveal the invisible in a workable logic, linking reality with the eternal truth.
A lot has been written about Time. It has been speculated, philosophised and debated; moreover, Einstein's theory of Relativity was studied and taught, however it seems that no one looked at Time in its cosmic dimensions, not to say in its absolute existence.