Joseph B. Majdalani (JBM)
ISBN 978-9953-405-26-3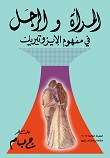 This is a study unique of its kind, a subject which no one has treated before! It penetrates deeply into the origin of the perfect Human Being in his integral state, and who in the process of time differentiated into woman and man. That separation was a stage in the differentiation of life itself and its dualities , and not an emanation of one from the other.
The book deals with the underlying relationship and complete equality between woman and man, and elaborates on the nature and mechanisms of man's esoteric bodies, on which both man and woman are urged to work to realize the attainment of the ultimate reunion between the differentiated parts.
It presents the techniques of realizing that union at the levels of the emotion, mind, love, will and spirit, these being the constituents of the esoteric bodies of man. For, man and woman are both mind in heart, and heart in mind. That is the path of consciousness which humanity is compelled to tread, voluntarily or by force, willingly or unconsciously, for that is mankind's destiny.